Knee arthroscopy surgery in Melbourne offers a minimally invasive solution for individuals experiencing ongoing knee pain and related issues.
Mr Andrew Gong, a highly skilled orthopaedic surgeon, specialises in arthroscopic knee surgery and can help alleviate your symptoms through this advanced procedure.
For those considering knee arthroscopy in Melbourne, a consultation with Mr Gong is the first step in determining if this procedure is the right choice for you. Visit the consultation page to schedule an appointment and learn more about knee arthroscopy surgery.
10 Muscle-Strengthening Exercises
to Perform Before a Total Knee Replacement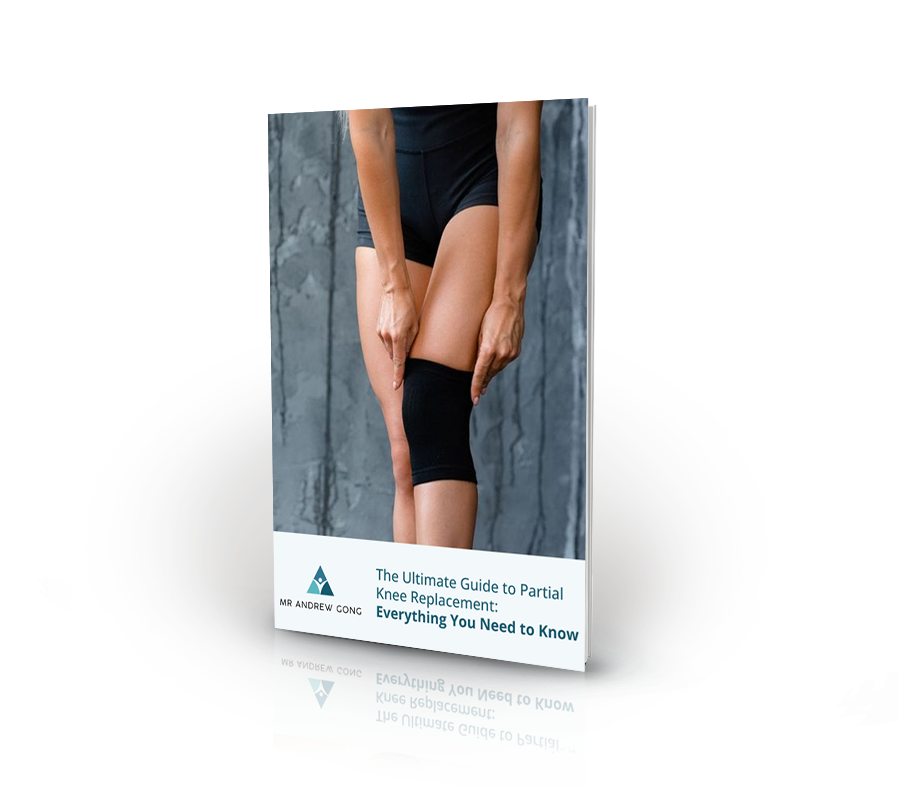 The Ultimate Guide
to Partial Knee
Replacement
What is Knee Arthroscopy Surgery?
Knee arthroscopy surgery is a minimally invasive procedure in which a surgeon uses a small camera and specialised surgical instruments inserted through small incisions to examine and treat problems in the affected knee joint. It is commonly used to repair damage to the meniscus cartilage, articular surface flaps, and ligaments.
The goal of arthroscopic knee surgery is to diagnose and treat problems with the knee joint, such as knee instability. It may also be used to remove loose pieces of bone or cartilage, repair damaged tissues, or release scar tissue.
Knee arthroscopy, performed under general or spinal anaesthesia, is a minimally invasive procedure to treat knee conditions.
​Knee arthroscopy is successfully able to assist with
several knee conditions, such as knee blade pain.
Signs and Symptoms Indicating the Need for Knee Arthroscopy
A surgeon may recommend knee arthroscopy surgery if you experience any of the following symptoms:
Pain in the knee that does not go away with rest and activity modification
Reduced range of motion in the knee
Loss of strength in the knee
Instability in the knee
Pain when moving the knee in certain directions
A popping sensation when moving the knee in certain directions
A grinding sensation when moving the knee in certain directions
Swelling and/or warmth of the knee
visible deformity in the knee
Common Injuries Treated by Knee Arthroscopy
A knee arthroscopy can assist with the following types of injuries:
Bone spurs
Frozen knee
Injuries to the tissue around your knee socket
Osteoarthritis
Knee impingement syndrome
Torn meniscus
Loose bodies associated with synovial cartilage metaplasia
After a knee arthroscopy surgery, there is minimal scarring,
and recovery takes approximately 1 to 2 weeks.
How is a knee arthroscopy procedure performed?
Knee arthroscopy is a minimally invasive surgical procedure administered under general anaesthesia that uses a small camera, called an arthroscope, to look inside the knee joint. The camera is connected to a monitor, allowing your surgeon to view the inside of your knee in real time.
During the procedure, your surgeon will make a small incision in your knee and insert the arthroscope. This allows the surgeon to examine the joint structures, such as cartilage, for damage and make any necessary repairs.
The procedure may involve removing any damaged tissue. Your surgeon may also inject medications into the joint to reduce inflammation and swelling.
At the end of the procedure, the arthroscope and instruments are removed, and the incisions are closed with sutures. After the procedure, you may need to wear a sling to help support your knee while it heals. Medication may be prescribed to relieve pain and swelling.
Knee Arthroscopy Risks to Consider
Although knee arthroscopy is considered a minimally invasive procedure, even minor surgical or invasive procedures carry risks. The risks and complications of knee arthroscopy include:
Nerve injury
Stiffness
Bleeding
Blood clots
damage the blood vessels.
Joint instability
Infection of the joint lining
Risks associated with the anaesthesia used during the procedure
Knee Arthroscopy Surgery Cost in Melbourne
The cost of arthroscopic knee surgery in Melbourne will depend on the specific condition of the knee. Once Mr Andrew Gong has conducted a thorough assessment, which may include blood tests, X-rays, or scans, he will be able to provide a detailed quotation.
This will include the pricing of the surgical procedure, the hospital stay, and the anaesthetist. Mr Gong's team will also advise if any rebates apply for Medicare or any other health insurance.
How Mr Andrew Gong Can Help
with Your Knee Arthroscopy
Mr Andrew Gong is an experienced orthopaedic surgeon who has successfully completed numerous knee arthroscopy and reconstruction surgeries. He is fellowship-trained in hip, and knee surgery. Mr Gong is experienced in using cutting-edge technology and techniques, including minimally invasive and robotic-assisted knee arthroscopy.
For more information about Mr Gong and his practice, please visit the Meet Mr. Gong and the clinic pages on his website. To learn more about the conditions he treats and the treatments he offers, explore the conditions and treatments and knee treatment and conditions pages. If you're ready to take the first step towards addressing your knee pain, contact Mr Gong's practice to schedule a consultation through the contact us page.
MBBS, FRACS (Orth), F.A.Orth.A
How to schedule a consultation
If you would like to schedule an appointment to see Mr Andrew Gong, please do so via the following methods:
RichmondThe Epworth Centre,
Suite 7.5, 32 Erin street
Richmond VIC 3121, Australia
Box HillEpworth Eastern, East Wing Tower
Level 14, Suite 14.3
25 Nelson Road, Box Hill VIC 3128
HealesvilleGet Well Clinic
408 Maroondah Hwy
Healesville VIC 3777, Australia
Frequently Asked Questions​
If you require more information on knee arthroscopy surgeries, please review our most frequently asked
questions section. If you still need more detailed information, please feel free to contact us directly.
This information is not intended to be used for diagnosis or treatment. It is aimed at presenting a perspective only
and is not a substitute for a prescription. Anyone experiencing a medical condition should consult their doctor.