ACL reconstruction surgery is a common procedure used to restore stability and strength to a damaged knee joint. This procedure involves replacing the torn anterior cruciate ligament (ACL) with a graft taken from another part of the body. 
This surgery is typically performed on athletes who have sustained an ACL injury, as well as non-athletes who have suffered a traumatic knee injury. With modern techniques, the surgery is minimally invasive,
If you have sustained an ACL injury, book a consultation with Mr Andrew Gong, for an ACL reconstruction. Melbourne residents can contact the practice to schedule a consultation.
What is ACL (Anterior Cruciate Ligament) Reconstruction Surgery?
ACL reconstruction surgery is a surgical procedure to replace a torn anterior cruciate ligament (ACL) in the knee. The ACL is one of the four major ligaments that stabilise the knee joint. While some tears can heal (proximal), the majority of ACL tears are in the middle of the ligament and do not heal with the same degree of stability. If a person needs to perform activities involving changing direction quickly when running, jumping or pivoting sports (soccer, netball, football), then a functional ACL is required.
The surgery involves removing and replacing the torn ligament with a new one, usually taken from another part of the patient's body (hamstring, quadriceps or patella tendon). The goal of the surgery is to restore normal knee stability and motion.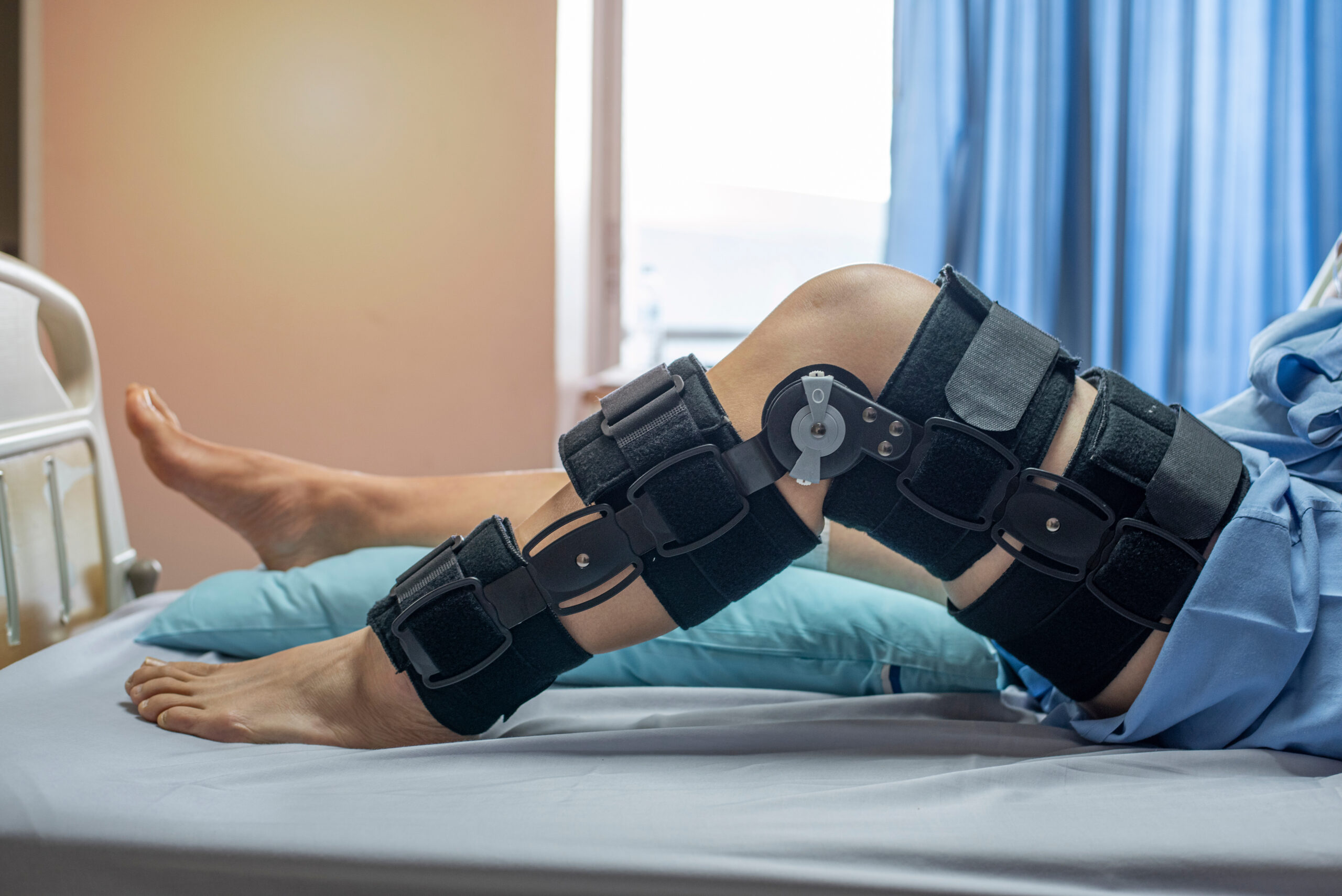 It may be necessary to wear a protective knee brace post-surgery to assist with the correct healing of the knee.
Signs & Symptoms You May Need an ACL Reconstruction
An ACL reconstruction surgery may be recommended if you have experienced any of the following symptoms:
Pain, swelling and instability in the knee joint

Popping or clicking sound when the knee is bent

Difficulty walking and climbing stairs

Inability to pivot, jump or change direction quickly

The feeling of the knee "giving out"

Limited range of motion
ACL Reconstruction Can Assist With These Types of Injuries:
Patients with the following types of ACL injuries may benefit from ACL reconstruction surgery: 
Anterior cruciate ligament (ACL) tears
Meniscal tears
Osteochondral defects of the knee
Articular cartilage defects
Multiligamentous knee injuries
Patellofemoral disorders
Tibial plateau fractures
Femoral condyle fractures
ACL tear
ACL rupture
Recovery post-ACL reconstruction surgery can take up to 6 months, patients can gradually begin to return to normal activities.
How is an ACL Reconstruction Procedure Performed?
An ACL reconstruction procedure is typically performed by an orthopaedic surgeon. It involves arthroscopically examining the damaged ligament. The surgeon then removes the torn ACL and replaces it with a graft, which is typically taken from a tendon in the knee or from a donor cadaver. 
The ACL graft is then secured to the thigh bone and shin bone with screws, staples, or sutures. After the graft is secured, the knee is closed and bandaged. Rehabilitation typically begins immediately after the surgery and may take up to a year for a full recovery.
ACL Reconstruction Surgery Post-Operative Recovery
ACL reconstruction surgery can be performed with an arthroscope, leaving minimal scarring and a fast recovery time.
During the first 6 weeks, it is important to limit activities that involve weight-bearing and twisting of the knee. This includes activities such as jogging, running, jumping, and squatting. In addition, it is important to avoid activities that require quick changes in direction. 
During the first 6 months after surgery, physical therapy is recommended to help regain strength and range of motion in the knee. Physical therapy is typically done 2-3 times a week and should include strengthening exercises, stretching exercises, and range of motion exercises.
After 6 months, patients can gradually begin to return to normal activities. This includes activities such as jogging, running, and sports. However, it is important to gradually increase the intensity of these activities over time to ensure proper healing of the knee.
ACL Reconstruction Risks to Consider
Although ACL reconstruction is considered minimally invasive, It is important to discuss any risks with a doctor before undergoing the procedure: 
infection
nerve damage
blood vessel damage
reaction to anaesthesia
risk of deep vein thrombosis and pulmonary embolism
risk of stiffness
scarring
persistent pain
ACL surgery cost, Melbourne
The cost of ACL reconstruction surgery costs at any of our Melbourne clinics will depend on the specific condition of the knee.
Once Mr Andrew Gong has conducted a thorough assessment which may include blood tests, X-rays or MRI scans, will be able to provide a detailed quotation.
This will include the pricing of the surgical procedure, the hospital stay and the anaesthetist. We will also advise if any rebates apply for Medicare or any other health insurance.
How can Mr Andrew Gong can help with
your ACL reconstruction
With years of experience in completing replacements and reconstruction surgeries, Mr Andrew Gong is a highly-skilled orthopaedic surgeon. His fellowship training covers hip, shoulder, and knee surgery, and he has expertise in using the latest technologies and techniques.
MBBS, FRACS (Orth), F.A.Orth.A
How to Schedule a Consultation
If you would like to schedule an appointment to see Mr Andrew Gong, please do so via the following methods:
Frequently Asked Questions
If you require more information on ACL reconstruction surgeries, please review our most frequently asked questions section. If you still need more detailed information please feel free to contact us directly.
This information is not intended to be used for diagnosis or treatment. It is aimed at presenting a perspective only and is not a substitute for a prescription. Anyone experiencing a medical condition should consult their doctor.